I shall no more attempt to press order on the chaos that remains. I shall instead merely seek to present the lovely garments and jewelry I found during the pertinent weeks' perusals.
I should warn you: I keep three files of blog material, "current", "later" and then "after that". Even "after that" is rather full, and were I so situated as to do little but blog, I would still be lucky to get this all written in a meaningful time-frame.
But enough of this lamentation! There is fashion afoot! Let us not put it off a moment longer!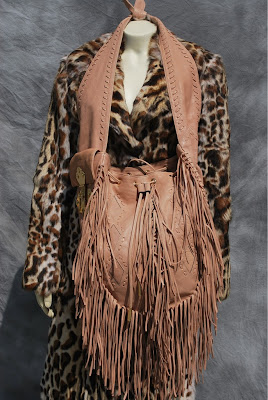 Found on SenseoFashion from perenial favorite
TheKaliman
. I am unsure of the era of this bag; (Anyone more knowledgable is urged to contact me). The presence of all that wonderfully abundant whipstitched fringe naturally brings to mind the 1960's, but I'm uncertain if the bag is from that era, or a retro bag produced in the 80's, or even last week. The bag is obviously sizable enough to be the cache of any well funded runaway, be that a debutant turned hippie headed for the Haight in 1968, or a busy executive flying off to Martha's vineyard for the weekend.
In addition to the roomy interior, there is a wonderfully convenient flap pocket at the side for your sunglasses and cell phone, and, if you absolutely insist, your cigarettes.
The bag is guarenteed authentic and sells for $2,000.00. If you have the money, this chic bag is worth every penny and will give you years (if not decades) of pleasure.
Twinsets were introduced in the 1950's and have been a wardrobe staple ever since. This
1970's twinset from Fred Rothschild
is as fashionable today as it was the day it came off the rack. Made of polyester rib-knit,
I was surprised to learn that the v-neck shell includes a back zipper. Perhaps this accounts for the garment having kept it's shape so well? The black fabric with white piping is as much a fashion staple as the twinset, and you're bound to find yourself reaching for this lovely set again and again.
The following garment is not vintage, but I have given myself permission to include it because it is vintage inspired and is hand made. Also, I love it, something that never hurts!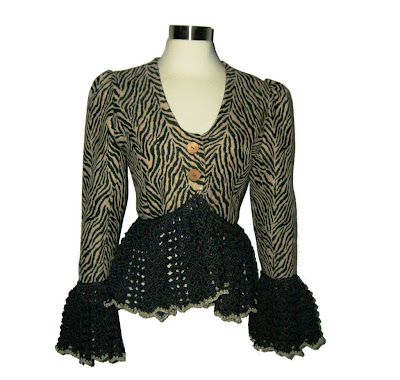 This wonderfully turned out
zebra jacket with the hand crocheted detailing
in the peplum and flaired sleeves was created lovingly by hand by the artist (and what else can one call such a seamstress?)
Annie Briggs
. The empire waist closes with two beautiful wooden buttons, and to nice low scooped neckline leaves room for you to show off your favorite necklace. Currently on sale (my two favorite words); you may find this fabulous jacket at Etsy for $135.00.


Ms. Briggs crochet work is really quite unique and wonderful. I beg you to view her work! Who knows but that you may miss that special something for which you've been searching for years!
Have you ever wanted a dress so badly that it hurt, as in caused physical pain, not to own it? I've felt that way about the spaghetti strapped, tea stained,and rosette adorned dress towards the end of the June 24th edition, and I feel that way about this amazing
early 60's black and white ruffle dress
. Even before I knew it's navy blue cousin had appeared on Mad Men!
My God. Is that a dress, or is that a dress? Made of polyester (not my favorite fabric, but also the reason the dress has survived so well!) this fabulous dress uses the contrast between the black and white to emphasize it's voluptuous ruffles.
This dress could comfortably go from the office to a museum opening with a simple change of jewelry and a different handbag. What do you think girls? A tripple strand of pearls coupled with a set of dangling earrings?
With a size 44 bust, this is a true bombshell dress! Alas, I don't have a true bombshell figure so I shall have to worship this from a distance. Maybe I could have it taken in? It certainly looks smashing on the model, and she doesn't appear to be Jane Russell! I think it's so wonderfully feminine.
Found, naturally, at Etsy, this knock-out dress is available from VeraVague for $185.00
Ms. Vague is a new find to me and she has The Eye. Rack upon rack of the chicest vintage clothing you could hope to find. I simply implore you to peruse her inventory.
Next, I just happen to have stumbled onto a pair of cuban heeled spectator shoes in black and white which would look simply spectacular with the ruffled dress shown above.
These smashing shoes
hail from the 80's and were a nod to the 60's even then. I remember my mother wearing shoes like this when she'd get all dressed up for a bridge party or some other special affair. The shoes look just as chic to me today as they seemed on my mother way back then.
Despite their age, these shoes are positively immaculate, look at the inside of them! And here's the back of the heels:
One could almost swear they are old dead stock! The shoes are size 6.5 and the label reads "Bravo by Browns"
The shoes are offered by
Aiseirigh
for $75.00' a bargain for timeless shoes that will see you fashionably though decades!
Also from Aideirigh is this beautifully cut and constructed dress with a full and fluffy houndstooth skirt.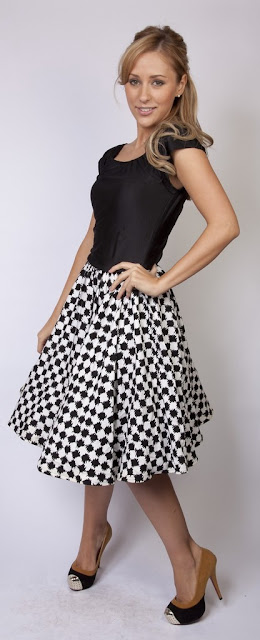 Created by one of Jacqueline Kennedy Onassis' favorite designers, Morton Myles. Prior to going out under his own label, Mr. Myles worked with such heavy hitters as Larry Aldrich and Herbert Sondheim.
The fabulously lined and fluffy cotton skirt is topped with some fabric with lots of give, but that still retains it's shape. The seller compared this fabric to Lycra, which of course didn't exist in the 1950's. I should mention, however, that the 1950's is an assumption on my part. This could be an '80's retro piece,which puts lycra back in play. Does anyone know if Myles was still designing in the '80's? If you know, please comment for us!
The dress sells for $235.00 the buyer should be warned that wearing this lovely cocktail dress may lead to spontaneous twirling!
This seller (
Aiseirigh
) is another seller to watch!
This amazing hat with the Parisian heart is so lovely, I may simply pine away without it. Designer Stella Dottir made obvious nods to the past, but still managed to create a Bohemian original. My only complaint is that the lovely jacket it is shown with is not available for purchase as well.
The designer was inspired by Clara Bow and created the hat to convey a "speakeasy" feel. I think she succeeded brilliantly.
The feathers on top can also be arranged to a "standing" pose, as shown below:
This look reminds me of Jack McConnel's hats, but in no way diminishes the originality of the design, especially as this look is combined with a modified version of a 1960's floppy flower child hat. Truly an inspired milliner.
This lovely creation is offered on Etsy by
Ms. Dottir
for $140.00.
Think how stunning such a hat would look when paired with a black and gold brocade dress...
This lovely
black silk metallic dress
from the late 40's or early 50's is onsale for 25% off list price if you enter the code: SWING25. The seller indicates that the metallic gold silkscreen may be real gold as per a vinegar test. I must admit complete ignorance as to how one uses vinegar to test for gold, but I wish to present the facts to the best of my ability. I frankly have no vested interest as to whether the threads in my garments are of precious metals, but perhaps you do?
The dress features a plunging (but not too deep!) "V" in a very fitted bodice with princess seaming, and a network of other seams used to acheive an almost "painted on" look for the bodice. The dolman sleeves are three quarters length, my personal favorite for sleeve lengths. A three quarter length sleeve will allow you to show off your favorite bracelet, as - naturally - the "V" neck invited you to chose your favorite necklace.
The slightly dropped waist then flairs to a very fullskirt which could accomodate a crinoline if one were to so chose. (Naturally Roze wishes you to so chose!)
The back of the dress is reported to gather at the center of the waist, producing something of a tiny bustle effect. Sadly we have no photographs of the back of the dress to illustrate this point.
I would estimate the size of this garment to be a size 8-10, as the bust is a snug 38" and the waist is 28". The skirt then flairs and the hip measurements go to a full 94" sweep.
The dress is reported to be in very good condition, though the seller does note that it appears that sections of the boddice seams near the waist apoear to have been let out two inches,but this effects neither the pattern,nor the "wearability" of the dress.
This stunning dress is offered for sale at Etsy by
Swingkatsvintage
for what I calculate to be $161.25 after the 25% discount. The pre-sale price of the dress is $215.00. Please check my calculations before committing yourself to make a purchase!
This shop has a small but truly lovely inventory and is certainly an assett to the Etsy community. I've made some real finds in my recent browsing.
The longer strand is 19" long, so it would hang on the neck like so:
Reported to be in "excellent" condition, the necklace has a nice weight to it, and the box clasp is simply classic.
Offered at Etsy by
Rosepetalpie
for a bargain $17.00! Rosepetalpie has a lovely selection of vintage costume jewelry, including a Vendome bracelet I
am quite envious of.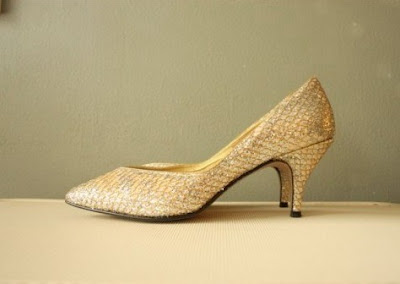 These appear to be reptilian to me, but no mention is made of the materials, so I could well be mistaken. They are gold tone with gold and silver sparkles, and could easily become that pair of shoes where you turn to again and again. Called "Dolce" (sweet) by Pierce, these shoes are a size 7 medium width and are in spectacular condition.
The shoes have 2.5" heels and are as chic today as they were when they rolled of the assembly line in...1950? 1960? 1970? These shoes are timeless!
Regularly priced at $28.00, these lovely pumps are on sale by
adVintageous
for $23.80, an absolute bargain!
AdVintageous has long been a favorite of mine, and currently, the have a sheer floral blouse, and a peacock blue peignoir set for which garment I would happily wrestle in the mud. Please don't cheat yourself by not taking the time to review their current selections.
Next we have a
wonderfully chic silver grey Kimono dinner jacket
. Sadly, it's lost its label along the way, so we'll never know the fabric content (suspected nylon), the designer, nor the intended size of the garmment. The fabric is a sparkling, glittery silver grey, and the seller feels the one size should fit all.
It's a lovely jacket but I can see it swallowing anyone below a size two. I hesitate to put an upper limit on it, but I do believe there is one! The jacket secures with a hook and eye closure at the waist.
I have to admit that I'm less than wild about the belt they've paired it with. Almost any black belt would be preferable, but I've chosen a special belt below. The jacket is offered by
luvstonevintage
for $44.00.
This shop has a very chic, hip vibe despite its small inventory that includes a floor legnth burned velvet dress I would stomp on someone to get to! (I wouldn't really stomp
on someone, but I could practice my sneaky skills, which are pretty finely honed!)
To solve the belting problem for the jacket above,one could get a long simple black scarf,wrap it around the waist and secure it with a floral fabric brooch. I do this all the time and women stop me on the street to ask where I found that gorgeous belt. I just smile enigmatically and say,"a little shop in Santa Fe." This is not where I found that scarf (I think that may have been a thrift store find), but it is where I found the floral fabric brooch. (Etsy,by the way, is simply over-loaded with floral brooches, and every women should own at least one of these!)
However, I was lucky enough to find a floral bridal belt that would make this jacket simply smashing: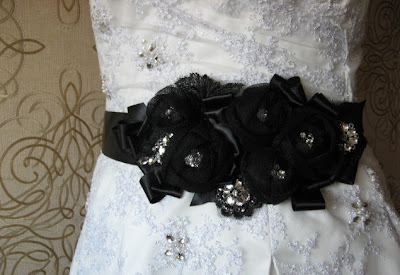 The use of the rhinestone embellishments should enhance the sparkling, shimmering quality of the kimono jacket, and there's nothing I love more than sparkle! The basic ribon is about 2" wide and more than 2 meters long, with the embellished part being around 9" long. This is made in Lithuania, and will arrive to you via airmail. Available at Etsy from
Floralworld
(home to many of those floral brooches) for $146.00.
Should you want to find something a bit less formal and more playful than black, I found this treasure of a floral sash at
rosyposydesigns
(also at Etsy)
:
I just love their incorporation of vintage jewelry into their designs! This
fabulous multicolored floral sash
is made of hand cut and hand sewn fabrics in a variety of textures, prints, and vintage lace. The center of each flower is a lovely re-purposed costume jewelry pin. Ivory and sage velvety leaves peek out from behind the flowers. The corsage is attached to a 90" long, 1" wide off white vintage lace sash. If this is not to your liking, the artist has a selection of satin ribbons which may be substituted (Roze implores you to go with the vintage lace!). A custom brooch or corsage may also be ordered to complete the look if you want to go all out. This lovely sash is available for $168.00.
The artists at Rosyposydesigns have a large selection of floral sashes, brooches and necklaces that should allow you to see your wardrobe in a whole new light.
This
stunning marriage Kimono
is from "The Yamamoto, Inc." in Los Angeles. The lovely over-Kimono is 100% pale pink silk and beautifully embroidered in pastel tones depicting leaves and flowers. The under-kimono is also 100% beige silk and is free of ornamentation. Finally, the silk embroidered sash is also embroidered in the same motif on both sides and is fringed.
Sadly, there is light staining and small moth holes throughout the garment. These are not visible from the photos provided, and thus must be very small indeed. Additional photographs are available upon request.
If the condition of the garment warrants it (and with this single photo, I have no way of knowing one way or another) this would be a lovely gown for a non-traditional wedding, or with a straight dowl through the sleeves, would make a lovely wall hanging.
Offered for auction by
TheSelvageYard
for the Buy It Now Price of $975.00.
The SelvageYard has such a collection of genuine surviving Victorian garments that I was left simply stunned. Any connoisseur of vintage clothing simply should not miss this once in a lifetime chance to see these garments that have survived over a century.
Back at Etsy, I found this simply stunning and classic vermeil and rhinestone solitair costume ring:
The ring is marked 925, so it is most certainly sterling silver underneath it's coat of shining gold. The stone sits a full 3/8" above the finger emphasizing the ring and making it the focal point of the wearer's hand. This is a ring which will not be missed! It is a size five, which is a pinky ring for most of us. It is decidedly not a pinky ring, and I implore you to be sure your fingers are small enough to wear the ring on the 2nd, 3rd, or 4th finger as it was intended.
The ring is offered by PurpleDaisyJewelry as part of their extensive and fabulous inventory. Any true lover of costumer jewelry would wish to spend a nice cup of coffee perusing their wares.
You can imagine the squeal that escaped my lips when I found these earrings! These simply amazing and modolicious acrylic/lucite earrings are also from PurpleDaisyJewelry at Etsy and naturally stopped me cold. I just love the look created by the three lucite square connected into one long earring. These are so 70's mod, that they should not be missing from any mod to disco collector's collection. And these days when vintage lucite pieces are often going for hundreds of dollars, these are a bargain at a mere $14.00. Put these on with your favorite go-go boots and get out there and boogie!
Lucite lovers! Stay with me! I have another couple of surprises in store for us!
Fabgabs has some incredibly "MadMen" clothing that is so true to the period, that you'll find it hard to believe you aren't seeing these garments on the backs of Bets, Mona, Peggy and Joan. And they have men's clothes too!

The next piece I've found is from a jewelry line I've discovered called Rock n' Rolaylty Jewelry of San Francisco.
I just love her use of watermelon stones, the festoons, and the genuine vintage inspiration of the piece. This piece is named "Victorian Fantasy" and sells for $186.00. Please take the time to view all the luscious jewelry at the site! You'll be so glad you did!
Finally today, I'd like to introduce you to a lovely rose colored satin damask party dress.
(I should mention that I believe the crinoline they've shown this with is just about 5" too short, causing that funny drop in the hemline. The right sized crinoline will fix that right up!) I just adore the fabric of this dress. You can look at it and know that it feels smooth and cool the way satin is supposed to feel. And the dainty embroidered flowers are perfection! Made for a woman with a true Bombshell figure, very generous in the bust (about 38") and tiny in the waist (about 26"). Perhaps a corset is in order? This would be a truly lovely bride's maid dress for the bride who didn't want a cookie cutter wedding! If not that, then it's the perfect thing to wear to the wedding, especially if you don't mind stealing just a touch of the limelight from the bride! The bust is made to fit snugly, to narrow to that tiny waist and then poof! out at the hips. The skirt has wide box pleats to assure it hangs properly, the sign of a truly master tailor or dressmaker. The dress closes with a side metal zipper. There is no label on this dress, and that doesn't surprise me. I believe this is the work of a master seamstress and is a one of a kind dress. It's currently on sale for 40% off!!! Offered on Etsy by Revolvingstyles, another shop with a to-die-for inventory.
Okay, I will admit I worship at the House of Dior, but this hat is truly something special. Navy blue straw with a nice wide brim, the hat features an off-center straw daisy. The inside of the hat is white. Can't you just see yourself sporting this hat with your favorite navy suit? The label reads, "Christian Dior Chapeaux Paris New York". The hat is described as being in "excellent" condition, and straw hats tend to age better than their felt counterparts. Offered by Revolvingstyles for $48.00.

Would you believe I still haven't exhausted my "current" list for this blog? Nonetheless, I have exhausted myself, so I am taking this moment to call it a day, or a blog, or to stop anyway.
Happy shopping to you all darlings!
Second Hand Roze