There is an expression: "biting off more than you can chew." With this blog post, I hadn't just bitten off more than I could chew, I'd somehow managed to stuff an entire turkey into my mouth. Not only could I not chew, I could just barely breath. I'd selected so many things for this blog post that I'm afraid of writing it. I have this vision of writing without stopping. No food. No sleep. Calling in sick for my straight job. Just writing endlessly on this single blog post. Sort of a purgatorial sentence, except I love writing, and I don't think you get to do something you love in Purgatory.
I went ahead and collected all the photos of the items I hope to write about so that I can impose a bit of order into the chaos. I'm too afraid to count the photos, but my plan is to present an item, say a polka dot dress, and then within the same portion of the post, present the other items that would go with say, the polka dot dress. We'll see how this works. It's not my usual structure. Much more restrictive than the usual blog post, but hopefully it will give us some structure.
All that's been on my computer for over ten days. I finally realized the only way to get this blog post out is to cut it up into pieces. This is the red piece.
Finally, I should warn you that this blog post and the posts immediately thereafter will be "Etsy Heavy". I've discovered that through following circles, Etsy is an almost never ending path. I've gotten lost in Etsy. A find leads to another find which leads to another find, etc. ad infinitum. A lot like the way I used to when the internet was new and eBay was still experimental.
Since I've already suggested starting with the polka dots, so, by all means, lets start with the polka dots. It's worth mentioning that I adore polka dots. If you don't know what to do with that hand-me-down chest of drawers? Paint polka dots on it. Polka dots make everything better. And for a lady who generally dresses in solid black, polka dots are by far my favorite pattern. For those of you who doubt polka dots, hey, God chose them for the Ladybug, what greater proof of their divinity do you need? Polka dots are da bomb, though my neice tells me (while rolling her eyes in that special way reserved for adults shooting for cool and missing the mark) that no one uses that expression anymore.
Oh well. My cool factor went down some. I might as well let it slip. I found an actual gray hair the other day. My cool days shall soon be long behind me. It is worth mentioning that my neice likes polka dots even if she would not call them da bomb.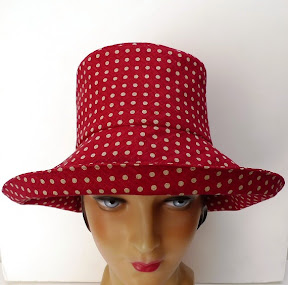 I decided to start with the handmade polka dot hat instead of the dress. I do not suggest wearing the hat with the dress. That would be a bit much of a good thing, but the hat is just too Cool.
Useful for all sorts of occassions, wear it jeans and a chambray shirt to spiff up that outfit a bit. Wear it with a simple red (or white) dress to give it some panache and lift the simple into the chic (especially if you have those just right shoes to pull the whole thing together. What? Not the right shoes. Relax darlings. Roze can fix that. Just hang on.)
You could also make it your gardening hat! (Saying that reminds me of the scene in Steel Magnolias where Shirley McClain shows up at the beauty shop with her basket of tomatoes proclaiming that gardening and wearing hats are requisites of Southern Womanhood. I happen to agree, and this is a hat that would do any Southern Woman proud.)
The hat is made of linen and has a slightly coarse, stiff texture, and should have considerable body to it. This is not a hat that will lose it's shape. This hat will stand up to time. You can wear the brim up or down or whatever combination of the two fits your style. The hat is offered on Etsy by BonniesKnitting for $65.00. BonniesKnitting has charming hats of all styles, varieties and vintages. Absolutely the go-to place for hats!
Anyway, I think my real point is that it's possibilities are endless, and such a hat can and should be a wardrobe staple. And may I, for a moment, lobby for hats. Hats and gloves particularly. When I was a child, women did not leave home without hats and gloves. Hats and gloves were the mark of a lady. In the years since our gloves left our hands and our hats left our heads the world has declined considerably, and I blame it on the lack of hat and gloves.
So next time you go marketing, put on a hat, and slip some simple white gloves on your hand. You may take them off when needed. They look just as chic gathered in the non-dominant hand with their empty fingers drooping in your hand. And just see what happens. At the very worst, this could not possibly hurt.
And besides darlings, you will look so chic.
Now, the shoes. I promised you shoes and I always keep my promises! These killer hand painted damask shoes with red anemonies and rhinestones on the heels could transport a solid color dress with that hat to anoutfit worthy of a lady who lunches.
Even if you have no interest in the shoes,the outfit, or the idea of the outfit, you still should follow the link to these shoes. Why? You ask. Well, because the woman who writes the product descriptions for the purveyor of the shoes, NoraKaren went to great lengths of research and can and will tell you more than you ever dreamed of knowing about the history of damasks (damaskeen?) and the symbolism of red anemones than you would even dream of finding on a casual catalogue browse. One has an obligation to render such research its due. Her prose is a pleasure to read. The words slip sweetly off the tongue, and as one writer to another, I salute her. Also, , NoraKaren has a whole slew of shoes that are just the cats pajamas.
Imagine these shoes with a pair of black cigarette pants. Imagine them with a black 50's swing dress. Imagine them, if you will with some fine seamed black stockings, and a racy set of panties with a matching bra and garter belt. These shoes are shoes to go places in (or stay home in, in the last instance). And they can be yours for a mere $295.00, a bargain for fantasies in a box.
The shoes are not vintage (though they are vintage inspired!), and are available in medium widths in whole and half sizes from 5 - 10 and whole sizes 11 and 12. Hand painted by NoraKaren her very self.
You noticed the rhinestones on the heels and the center of the toe strap right? There! I thought you did, but I pointed them out just in case. A Blogger has certain responsibilities in such an instance, and I wish to be sure that I'm living up to mine.
Wear it "as is" for a retro look and you have a lovely day dress, though I have to admit that I'm not nuts about the belt they chose. I think I'd prefer a white belt, probably one of those ridiculously wide ones. Or perhaps a lovely satin sash. Especially a long one tied in a nice big bow in the back or at the side.
But lets face it. What I really want to do with it is take in a few darts at the bodice, add a princess seem, and - what the heck - lets throw in some boning, and turn this loose puppy into a nicely tailored 50's bodice. Take in the waist. Shelf that bust. Them we can make a darling little bubble dress, or - naturally, I'd love to see this! - stick a crinoline under that nice full skirt. And the marvelous thing about fashion is that we'd be moving the dress simultaneously forwards and backwards through time. Suddenly we shall have a dress fresh off the catwalk and a dress to make some of us stop and smile and remember when...
In the alternative, you could take up the hem and make a mini. This is my least favorite option, but if you buy it, hey, it's your dress. But again, I don't mean to suggest that it's not fabulous just as it is. It already is a wonderful dress. And we're lucky enough that my being whelmed-over by the size of this blog post has allowed us to arrive at a time when it is on sale for a mere $30.00.
The dress is made of a rayon/acetate blend which just hangs beautifully. What it won't do, however, is stretch. The model is a size 2/4. I think it would be fine as a 4/6 as well, but this dress isn't going any larger than that. No. Not one inch.
Imagine yourself in this dress at a sidewalk cafe in Paris. Imagine it styling down the sidewalk in New York' clubbing in LA. Imagine yourself in this dress at work or at a party, but don't imagine yourself squeezing into this dress if you're a size 7 or larger. Believe me darling, I know. I feel your pain.
Also from NoraKaren are these stunning shoes with a red rose tattoo motif and pheasant feather design. These too were designed to be wedding shoes, but don't they look smashing with the cherry print dress the model is wearing?
These shoes are satin shoes and both the roses and the pheasant feathers are both carefully hand painted. They are not available in leather or patent. The roses have such a three dimensional look that i'm just shocked they're not leather!
Like the shoes above them, I think they would look stunning with the red polka dot dress, especially if you wore a crinoline over the dress. I like the introduction of the black to the Red and white color scheme, and the whole thing just screams, "Chic!"
I also think they'd look fabulous with jeans and a leather jacket, a denim mini skirt with a grunge type sleeveless shirt, or a dress in the color scheme of the cherry themed dress shown above. The possibilities are endless! Perhaps my favorite scenario is the classic Marlon Brando approach: some faded, if not ripped jeans, a white t-shirt, and a leather jacket. On my!
These shoes are available in medium widths from size 5 through 10 (including half sizes) and size 11; also available in wide widths from sizes 6 through 10. They have just killer 2 1/4" stilletto heels
Yours for a bargain $225.00.
I'd wear pearls with this classic dress. One strand. Five strands. Right at the neck, or long string(s) hanging down in front. You just can't go wrong, I haven't included any because they're ubiquitous, and because I've featured so many strings of pearls in the past. Also, if you lack the technical expertise to find a string of pearls on the internet, stop! put the mouse gently down, and return this computer to the person who owns it.
I did however, find this:
A fabulous, one of a kind, artisans pearl bracelet. Each one ordered is made specifically to fit your wrist, so no two are ever alike. Featuring real fresh water pearls with sterling and a design that is both extremely modern and absolutely timeless. You could wear this at a Ren Fair, on the set of Mad Men, and to the next opening at the Museum of Modern Art. Offered on Etsy from MythicSilver for $650.00
Since we're doing red, I'll introduce the next to-die-for garment.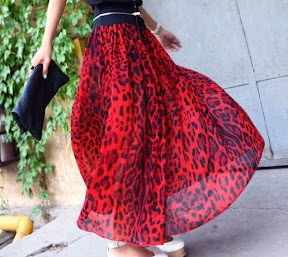 This practically perfect red with leopard spot skirt showed up on Etsy and it was love at first sight. It's cut wide enough to take a crinoline, but surprisingly enough, the fabric is so lightweight, so loose, so billowy, that I'm actually nuts about it the way it is.Made of a soft chiffon with the feel of silk, this is a one-size-fits-all skirt. I'd love it with either of the pairs of shoes shown above, I also love the simple white shoes the vendor has chosen to share with the skirt. I'd love it barefoot.
Perfect for anything from the office to a night at the Opera. This lovely skirt is offered by Neerjcraft for $65.00.
This fun and flirty red watch also came from Etsy. Like the red polka dot hat, this need not be saved for strictly red outfits. I think it would look smashing with jeans and a white t-shirt, and would be fabulous with either pair of shoes I've included in this blog. It could dress up denim, or add a hint of casual fun to satin. Wear it with a white and blue ring and go vote feeling American to the bone (or british, or even French. Sadly, this won't work for Italian. You Italians will have to get your own rings!)
On a more serious front, I found this timelessly chic dress (yes, also at Etsy. I warned you about that!):
This cherry red mermaid dress with the back ruffle would be a perfect opportunity to show off the fun side of that darling red watch. Made most probably from tafetta or acetate, this dress is tiny, barely a size 0. The strapless dress has a sweetheart neckline and a back metal zipper (which should place it in the 50's sometime). Wonderfully retro without looking dated, this dress is in excellent condition. Offered by Aiseirigh for a bargain $80.00.
Inspired by the tango,these shoes are vintage in spirit but modern in manufacture. Each wonderfully cut shoes is embellished with a matching red satin rose (or is that a runcula?) with a Swarovsky crystal in the center. The stiletto heels are 3 1/2" high. Offered by ParisXOX from Michigan for $142.00.
And that my darlings, concludes the

red

portion of this blog-post. I shall continue with soon with white and off white.
Until then, Happy Shopping,
Deep in the Heart of Uncertain Texas